KELLER Group is the World's largest geotechnical specialist contractor which provides wide range of geotechnical solutions & techniques that are used alone or in combination, these techniques solve a wide range of challenges across the entire construction sector – from industrial, commercial and housing projects to infrastructure construction for dams, tunnels, transportation and water treatment, as well as projects to address environmental challenges.
During this talk, James Hurley will speak on the Los Angeles County Museum project, located at the Le Brea Tar Pits. There were a number of difficulties in this area, one which involved the tar impregnated soils. Keller stepped in and provided solutions to various problems on the site and performed multiple techniques for this single project. You will hear about the challenges, the lessons learned, and more about our client relationships.
Andres Baquerizo, P.E., MSE., will speak on the Aston Martin residences in Miami, Florida. Confronted with ever-increasing land prices due to relentless metropolitan developments and high rise construction, developers must locate parking below grade. However, dewatering regulation changes, combined with a subsurface profile consisting of cohesionless soils and highly porous limestone, and a shallow ground-water table or properties abutting the rivers or beach, have made maintaining a safe and water-controlled excavation key to guaranteed schedules and budgets. This presentation will review how Keller resolved such challenges and controlled risks by combining several techniques within lumps sum contracts.
Organizer
Speaker
Andres began his career in Bogota, Colombia in the 1990s, working at his family's consulting and construction company. He joined Keller in 2002 as an assistant project manager for HJ Foundation and began to work his way up in the company. In 2011, he became vice president for HJ Foundation and received the 2011 ASCE Miami Engineer of the Year Award. Four years later, he was appointed as the leader of the Global Product Team for continuous flight auger piles at Keller. He is a licensed professional engineer and is an active member of various organizations including ASCE, DFI, and FSEA.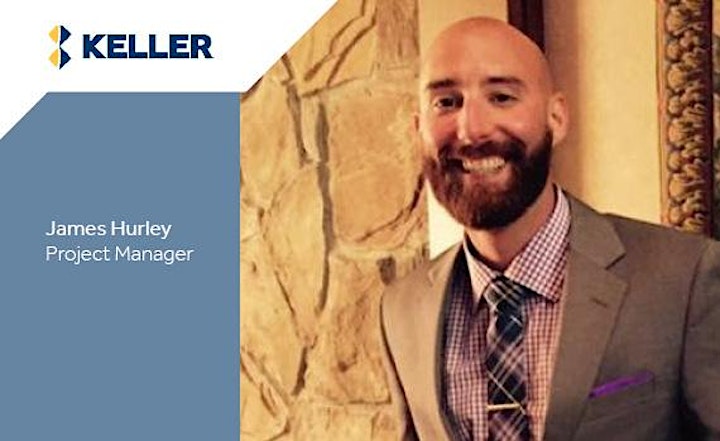 .James graduated from Northeastern University in Boston with a BS in Civil Engineering. He then spent 10 years as a consultant in Boston where he specialized in pile testing including Pile Dynamic Analysis (PDA), Cross-hole Sonic Logging (CSL) and static load testing of many various types of piles. James also specialized in instrumentation, including most of the services Geo-Instruments provides today. He started at Keller, with Hayward Baker, back in 2017 and is quickly approaching his 5-year anniversary! James acts as a Project Manager whose day-to-day activities include bidding and running work of varying techniques including Cast-In-Drilled-Hole (CIDH) piles, Micropiles and anchors, Support of Excavations, and ground improvements. He is also a member of the Micropile Product team at Keller.
Event Details
Date & Time – July 26, 2022 & 11.30 PM IST
PDH Credits- 1.0
---