This comprehensive short course will be comprised of 5 days of 8 hour lectures for a total of 40 lecture hours based on the design, construction, operation, monitoring, evaluation and safety of mining facilities.
This hybrid short course will still provide the high quality content as in previous years and give mine waste managers, engineers, regulators and researchers an opportunity to learn and discuss the latest developments in tailings and mine waste management and to make professional contacts with others who have mutual interests and goals.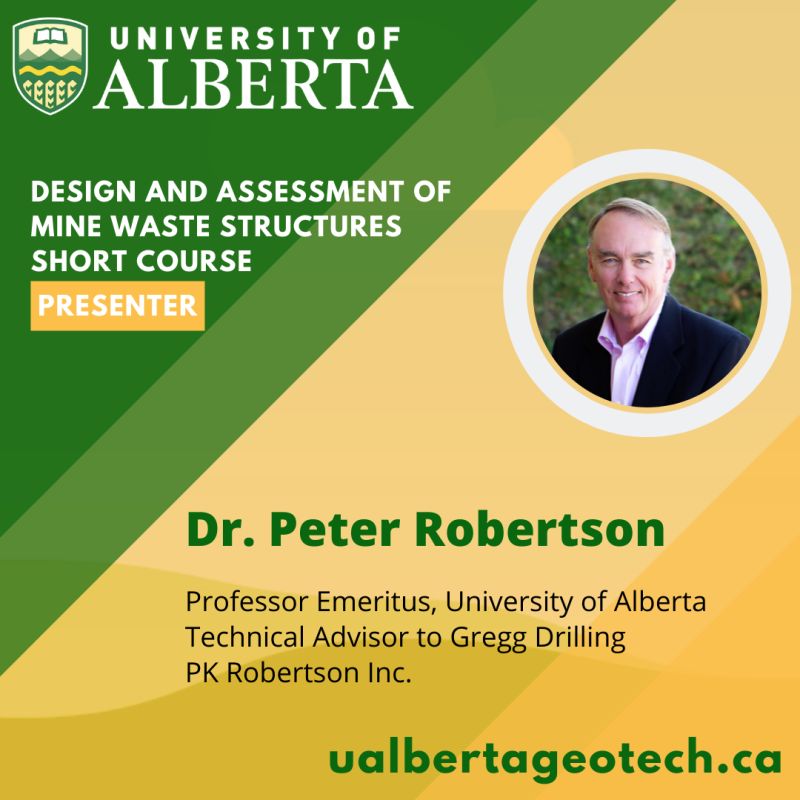 Topics
· Characterization of Ore and Rock
· Engineering Properties of Tailings and Waste Rock
· Geochemical Characteristics
· Surface Tailings Disposal
· Waste Rock Impoundments
· Hydrology and Groundwater
· Surface Impoundments Siting, Challenges and Case Studies
· Conventional Tailings Embankment Design
· Oil Sands Tailings, Dam Design and Construction
· Failure Mechanisms and Case Studies
· Seepage Analysis and Saturated/Unsaturated Flow
· Stability Analysis of Tailings Impoundment
· Settlement and Deformation Analysis
· Seismicity and Dynamic Analysis
· In-situ Characterization, Testing and Monitoring
· Water Balance and Control in Surface Impoundments
· Mine Waste Management in the Arctic
· Compliance Regulations, Current and Emerging Practice
· Dam Safety and Inspection
· Covers and Closure
· Future Directions – Where are we going now?
Organizer
University of Alberta
Trainer
Course Details
Course Date- 12th May 2022 to 17th May 2022
Last Date of Registration is 10th May 2022
Course Fees
Time
8.00 AM to 5.00 PM