Irrigation is one of the largest consumers of water in the world, which means creating robust—and efficient—micro irrigation systems is essential. Enter computer modeling for network design. You can look at everything from piped irrigation network(s) for conveyance, to distribution and application. You can also simulate a hydraulic analysis  of  a target  network  with specific topography  and design criteria. ​
See how OpenFlows WaterGEMS can help you configure, evaluate, visualize, and optimize  an irrigation network system. This comprehensive application  is essential for designing pressurized irrigation networks, and will get you through all stages, from planning to designing to analyzing to operating.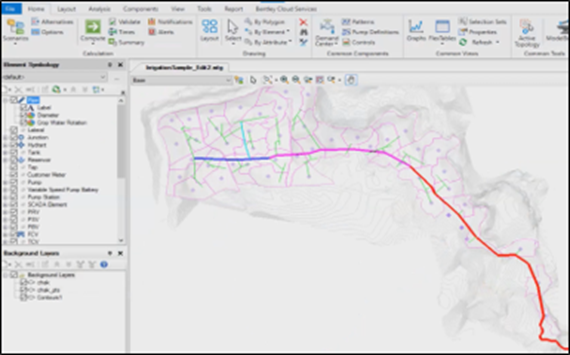 In this webinar , You will :
See how to model an irrigation system with the OpenFlows WaterGEMS Dendritic Designer Tool​
Understand how to optimize the design of dendritic networks in irrigation systems​
Learn how to design an efficient irrigation network.​
View how existing "chaks" can be used to assign crop demands to the piped irrigation network
Organizer
Virtuosity – A Bentely Company
Speaker
Ms. Rupali Jadhav (Product Sales Engineer)
Rupali is an experienced professional working in the water infrastructure industry for the last 5 years. She holds Master's Degree in Environment & Water Resources Engineering. As a Product Engineer at Bentley's Virtuosity, she helps professionals across India deliver high quality designs and improve their workflows by providing Hydraulic and Hydrology solutions.
Mr. Deepjyoti Chakraborty (User Success Manager)
Deepjyoti works for Bentley's Virtuosity as a Product Success Manager Water Infrastructure with 3+ years of experience in Hydraulics & Hydrology and environment. He holds a Bachelor's Degree in Civil Engineering and a Master's Degree in Environmental Engineering. He is responsible for product training, industry presentations, and engineering sales support for a variety of Virtuosity's OpenFlows software solutions. 
Event Details
Date & Time – 2nd August 2022 & 11.30 AM IST
---