With Advances in data collection techniques and software have revolutionized the preparation of complex 3D models containing surface and subsurface project data. However, the 3D data is generally communicated by traditional methods such as simplified 2D static images and drawings, or the use of 3D viewers on 2D screens. Humans understand data better when it is presented in 3D. Compared to a traditional static 2D screen or drawing, being immersed in a 3D environment provides enhanced problem solving, high levels of engagement, improved understanding and much more, irrespective of users' background or expertise
Using Mixed Reality head mounted displays such as the Microsoft HoloLens paired with the Ada Platform software by Clirio Inc. users can deploy complex 3D models to the middle of the room as a true holographic 3D model. By leveraging this immersive technology, up to 10 users connected to a shared session can see the same model at the same time and walk around all data together, at their own pace and from the perspective that it is most advantageous to them. With this, users can interrogate data on a more natural and collaborative environment, unlocking communication and facilitating common understanding of project challenges. Remote users can join the shared sessions from their home or field offices to discuss challenges with the rest of the team.
The presentation will introduce some of the advances in field data collection equipment and software such as the lidar scanner sensor on the new iPads and iPhones that is allowing field personnel to create and distribute 3D models of field details in a matter of minutes, and then describe how Mixed Reality can be used to communicate 3D models. The presentation will include several real project examples.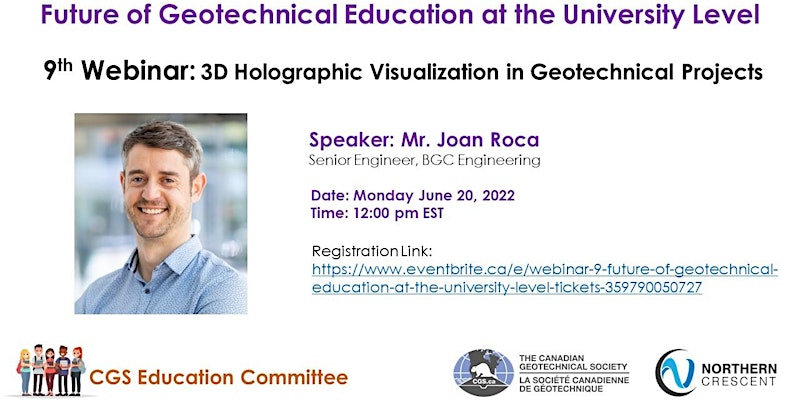 Organizer
The Canadian Geotechnical Society
Speaker
Event Details
Date & Time – June 20, 2022 9.30 PM IST
---